Randall Flood: Bring on The Magic
–
74,128
words (
complete!
)
Tomb of Tomes: Irving Wishbutton 3
–
0
words written so far (about
0%
complete)
BATS AND A BRANCH
Posted on September 7, 2012
Okay, here's another stab at the cover. I got inspired and decided to have Norton hanging upside down from a branch with a life preserve around his neck while a bat family, the Stumblepots, look at him with dismay.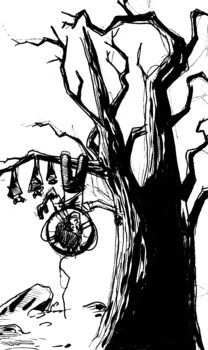 Hoping to tighten it up and really play with more trees in the background as a bit of faded shadows.
Post a comment...
All recent posts and archives...
February 2018
January 2018
December 2017