Randall Flood: Bring on The Magic
–
74,128
words (
complete!
)
Tomb of Tomes: Irving Wishbutton 3
–
0
words written so far (about
0%
complete)
WADING INTO THE EIGHTIES AGAIN!
Posted on January 16, 2017
I am having such fun with my second book in the eighties. Ghost Coast happens in the summer of 1988, and I'm once again getting to research pop culture from that era. I also had to check out technology to see what the kids would be using to listen to their favorite tunes. I thought a Walkman, and this website on Tech from the Eighties proved me right.

I also had Reece pick up a comic from the spinner rack of a local grocery store, and that comic was none other than The New Mutants #63. The fact that it featured Kitty Pride and Lockheed was delightful to my younger self, who loved those characters back then.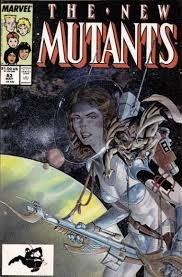 Part of me like the idea of maybe crafting a third book in the eighties just so I can say I have a sort-of trilogy that takes place in that bygone time. Of course, it would have to be radically different. The first book was a superhero novel, The Powers That Flee, and this second one is a supernatural tale. Maybe the third one could be delve into aliens or robots or both.

We'll see.
Post a comment...
All recent posts and archives...
February 2018
January 2018
December 2017