Randall Flood: Bring on The Magic
–
74,128
words (
complete!
)
Tomb of Tomes: Irving Wishbutton 3
–
0
words written so far (about
0%
complete)
HERE IS WHERE I NOVEL IS COMING SOON!
Posted on September 1, 2016
I am doing a final read through of Here is Where I . . . on the kindle this week and next to look at dialogue to tighten up. It looks like the book will miss my September 6th deadline, but should be out later in the month.

Looking forward to seeing what readers think of this book. I'm darn proud of my take on the teenage contemporary fantasy genre.

Here's a Jabba the Hutt drawing I did for a student this past week.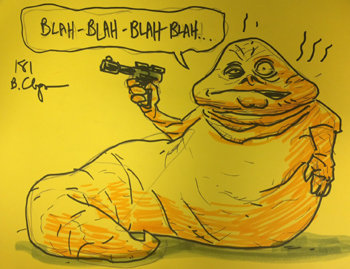 Post a comment...
All recent posts and archives...
February 2018
January 2018
December 2017