Randall Flood: Bring on The Magic
–
74,128
words (
complete!
)
Tomb of Tomes: Irving Wishbutton 3
–
0
words written so far (about
0%
complete)
WHEN CLIMAX CAUSES CONFLICT
Posted on July 25, 2017
The climax in stories is a tricky beast. I often have a vague idea of my climaxes when I start writing, enough to know how to build the plot to that point, but often the pieces don't fall into place until you arrive at the big scene.

With my new book Ghost Coast, I had laid bits and pieces of how the special folks in the cast interacted with the spirits, but didn't have a specific way to end the threat of the breaker in the story. I pushed through the chapter and the actions fell into place. A key eureka moment hit me, and I knew the way the characters wanted their trap to happen. At the same time I also saw a flaw I could exploit and make the end sequence even more harrowing.

Heck, stopping to write this post is helping the ideas firm up even more.

Now coming up with some of the elements this late in the narrative might conflict with the rules of magic and such I've sprinkled throughout the story. That's okay as long as I can go back and justify their use or tweak them to serve the climax. I believe I can, but sometimes you fashion a climax that contradicts the other elements so much you can't use it. Often you know it the minute you suss out the climax and quickly abandon it even if the climax seems really cool.

This particular climax feels like a strong one. I'm going to barrel on through it and then address any inconsistencies in the next read through. I like this one because it really cements the father/son team aspect of the back half of the book and ropes in Reece's mother in critical and sad way.

I also find the climax chapters go so quickly for me in terms of writing time. That's a good thing as I'm racing against the clock to get the book done or nearly done before I start a new school year with my fifth graders next Monday.I find editing and revising far easier to do once I'm in the grind of teaching for nine weeks.

Here's hoping I kick it into overdrive the next four days.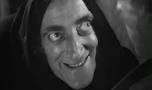 Tee-hee! The climax references the classic 'Walk This Way" scene from Young Frankenstein and Marty Feldman's wacky eyes.
Post a comment...
All recent posts and archives...
February 2018
January 2018
December 2017