Randall Flood: Bring on The Magic
–
74,128
words (
complete!
)
Tomb of Tomes: Irving Wishbutton 3
–
0
words written so far (about
0%
complete)
CARTOONS ALL THE TIME
Posted on August 19, 2012
I thought everyone would get a kick out of seeing the cartoons I draw for my students each week. I pass out four of the small ones a day to four different students who worked hard. I then give out one of the big ones at the end of the week. In addition, the students can order a large color cartoon each week with their Clopper Cash for fifty or seventy dollars. I had to do twelve of those this week. I figure I've done over tweleve thousand of these cartoons in my career. I have heard numerous students say they have a wall dedicated to their cartoons. Quite a few frame them. That really makes my day. I will try to snap a shot once and a while of the cartoons and post it for your viewing pleasure.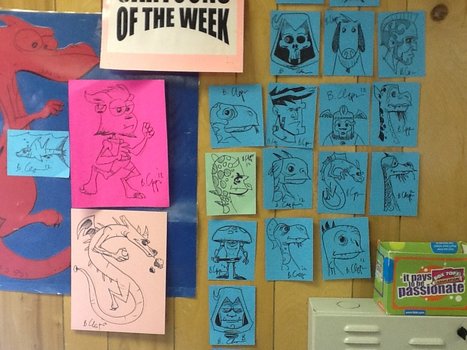 Post a comment...
All recent posts and archives...
February 2018
January 2018
December 2017