Randall Flood: Bring on The Magic
–
74,128
words (
complete!
)
Tomb of Tomes: Irving Wishbutton 3
–
0
words written so far (about
0%
complete)
TAGALONG REDO COVER IDEA
Posted on September 1, 2012
I really want to redo the cover to TAGALONG as it reads very muddy and not as vivid as my other covers.

Here's the idea I have. I take my nephew and put a shirt on him with the design below. I then shoot his cute little self from chin to knee with his cap tilted down to cover most of his face and to also indicate he's sad. I think it's got a plethora more pizazz than the crumpled map cover of the original.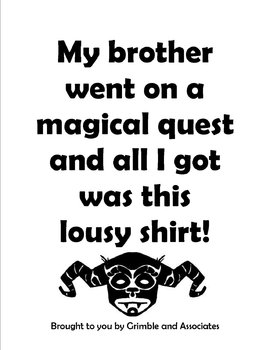 And here's a close up of the Grimble logo:



Post a comment...
All recent posts and archives...
February 2018
January 2018
December 2017