Randall Flood: Bring on The Magic
–
74,128
words (
complete!
)
Tomb of Tomes: Irving Wishbutton 3
–
0
words written so far (about
0%
complete)
MONSTERS IN BOXERS NEARING COMPLETION
Posted on November 3, 2012
Very excited to announce Monsters in Boxers is on track to be released on November 29th. I just got the edits back from Keith and I am working my way through them this week.

Next week I will make my fixes and tweak some additional description that Keith wisely suggested, then get it up on the Kindle right after Thanksgiving.

I am very excited to see this project out there as it's a book that is filled with slam-bang action, bizarre beasties and an awesome bunch of heroic friends.

Here's the new cover designed by Keith Robinson: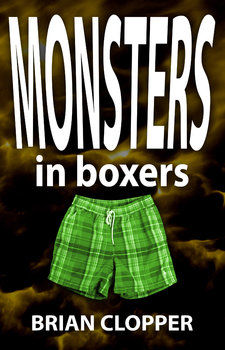 I love how Keith put the Chaos Storm in the background.

I can't wait for you to meet Horde Lord and his trusted aide, Joptok! Truly memorable villains all around!
Post a comment...
All recent posts and archives...
February 2018
January 2018
December 2017