Randall Flood: Bring on The Magic
–
74,128
words (
complete!
)
Tomb of Tomes: Irving Wishbutton 3
–
0
words written so far (about
0%
complete)
SPROG WITH A BLOG: THOUGHTS ON DESTRUCTION
Posted on November 24, 2012
My little alien mascot is Sprog and he has thoughts. So many thoughts. So many unfiltered thoughts. Tune in to see what he has to say. He'll ruminate on properly ensuring humanity's destruction, tweaking interstellar drives, selecting the right raygun for the right occasion, the lost art of napkin folding and much more.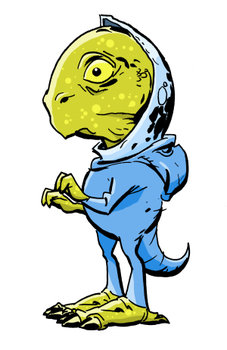 Sprog Says: "I'd destroy all humans today, but I don't have enough pep in me."
Post a comment...
All recent posts and archives...
February 2018
January 2018
December 2017