Randall Flood: Bring on The Magic
–
74,128
words (
complete!
)
Tomb of Tomes: Irving Wishbutton 3
–
0
words written so far (about
0%
complete)
MAPMAKING AND WORLD BUILDING
Posted on October 4, 2011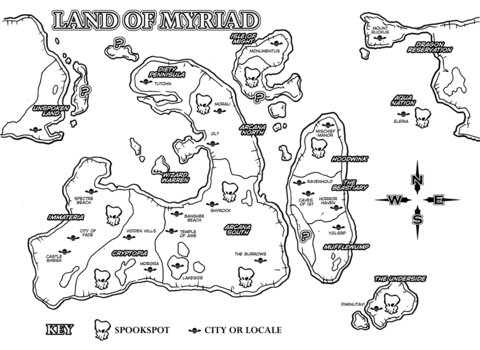 When I created the story for GRAHAM THE GARGOYLE, one of the earliest brainstorming tactics I did was design a map of Cascade. It helped me with sequencing and developing a feel for the whole of the magical world even if Graham really doesn't stray too far from his village.

I applied this thinking to TAGALONG when it came time to figure out an entirely new magical realm. Myriad was born from this map. I'd like to discuss the various kingdoms in Myriad to show you that I leave myself wiggle room with places. I always put more on the map than what is in the story in the hopes that a second book will reveal more of the world. Probably indicative of the fact that coming up with ideas has never been an issue with me.

The main continent in Myriad is home to Arcana North and Arcana South. All magical creatures reside there. The Burrows in Arcana South is a major setting for Mitch and Dylan in that it represents the first real dangerous mission when they sneak inside to retrieve a truly cursed weapon.

Cryptopia is home to all the creatures we think exist, but haven't found proof of them yet. Bigfoot, Yetis and a creature from my home state of Maryland, the Snallygaster, pop up when they visit this kingdom.

Immateria is the realm of the spirits. They don't go there, but they do use the Spookspots to travel between lands. In a Spookspot, you ride spirits from one gateway to another. It's a dimensional shortcut.

The Wizard Warren needs to be isolated so an island did the trick.

The nonsense characters such as fictitious friends, stuffed animals that talk, and animate toys reside in Mufflewump.

Our gremlin guide hails from Hoodwink, a realm where mischief is the hallmark of its citizens.

The Underside, another place that is not visited, is the lair of the truly dark creatures, the beings who go bump in the night.

The Aquanation is home to a key species that show up halfway through the book. I was very pleased with how threatening these creatures turned out.

Isle of Might, the Dragon Reservation and Deity Pennisula are three more areas that are there not as part of the story, but to add flavor and variety. I love the idea of using all three places in the second book of the Myriad series. The names are just too evocative not to be exploited. Please forgive that I spelled deity wrong on the map.

I shall not speak of The Unspoken Lands as that is verboten and I'm a big fan of respecting all things verboten.

The question marks allow for more world building to happen if needed.

When creating my maps, I go into it with a sense of fluidity and exchange. What I hope I end up with is a charmer of a world that has enough known locales and enough unknown to tickle the reader's imagination. I create a rough map at the beginning of the book and then a finalized version after the novel is complete. That allows for new places to added or switched out with places that I'm no longer fond of using.

UP NEXT: CHECKING IN WITH ZOMBIES
Post a comment...
All recent posts and archives...
February 2018
January 2018
December 2017