Randall Flood: Bring on The Magic
–
74,128
words (
complete!
)
Tomb of Tomes: Irving Wishbutton 3
–
0
words written so far (about
0%
complete)
ROADS OF MADNESS REVIEW
Posted on August 29, 2012
Keith Robinson has done it again. His latest volume in the ISLAND OF FOG series is out and you need to snatch it up.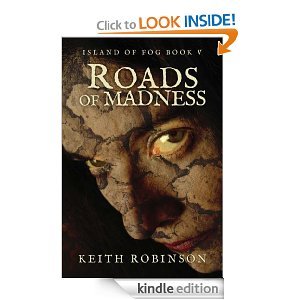 ROADS OF MADNESS takes Hal and his fellow hybrid friends and plops them into the middle of a world in ruins. With their magic ripped from them by the rebirth of a phoenix, they face savagery and the unknown without their ability to transform into magical creatures. They brave the scrags and a lethal group of survivors known as The Swarm. I loved how well the author peered into Hal's thoughts. The teens are intelligently written and are tasked with finding their way out of harrowing events. They react like real people with a mix of thoughtful and foolish responses. I love how Robinson develops the characters with each new book. I can't wait to see what Hal and his magical band come across next.

This book is fast-paced and will appeal to fans of series like THE MAZE RUNNER and ROT AND RUIN. Robinson smoothly blends fantasy creatures with zombielike mayhem to great effect. This is a great book to snatch up if you've never tried the series. It will have you hunting down the previous four volumes thanks to the wonderful tidbits Keith sprinkles throughout the book about the cast and their past. If you haven't tried this excellent series, you're missing out on a writer firing on all cylinders.
Post a comment...
All recent posts and archives...
February 2018
January 2018
December 2017